New skin care product blends natural ingredients to reduce age effects
A small business in Singapore has begun its special pre-launch campaign to market a new line of facial products, 3Rific, by the middle of October.
The 3Rific product is a brand new natural skincare concept.
"We interpret and recreate new generation of skincare inspired by our journey experience through the globe," stated the company co-founder identified as W. T. "We take our passion, inspiration and experiences from our journey to explore and continue to developing great natural skincare and celebrate the simplicity with naturalness."
Three levels of pledges offer rewards to the donor: two levels of $48 (USD), and an $89 (USD) level. Each one come with a free sample of one of the 3Rific products.
"At 3Rific, we believe that beautiful skin should look and feel natural regardless of origin, religion, culture, beliefs or physical traits," W.T. said.
The development of this product came from an expert team of researchers with 25 years experience. Only natural organic ingredients are used and the product developers are focused on the naturalness with three essential pillars: purity, simplicity, and efficacy. These three elements inspired the products name.
"The light silky smooth texture fast absorbs into the skin without a greasy feeling," W.T. said. "The skin looks plump, radiance, and supple with energizing appearance."
The oil uses a blend of baobab and argan oil, heritage tree from Africa, and nine precious botanical oils and Lupine seed helps to smooth the evidence of age. About 85.5 percent of the total ingredients are derived from certified organic products.
"The first skincare line consists of two products, and only premium natural ingredients with proven record of safety and efficacy are selected," W.T. stated. "They are suitable for all your daily skincare routine and your best travel companion everywhere, and for every day."
Each product comes in a 30ml container which allows for convenient packing or as a carry-on item for frequent air travelers.
"All travel always exposes your skin to various harmful circumstances," W.T. said. "From the road trip to visit family members, a short weekend getaway, or taking a flight across the world. Even short term exposure can cause long lasting damage to your skin."
The natural and organically grown ingredients Cassava tuber, rose water, argan oil and Swiss apple provide revitalizing benefits to the skin by diminishing dullness and wrinkles while promoting youthful skin elasticity and a brighter complexion that gives a firm, toned appearance. In addition, the haskap berries (native to Japan) provide a powerful antioxidant.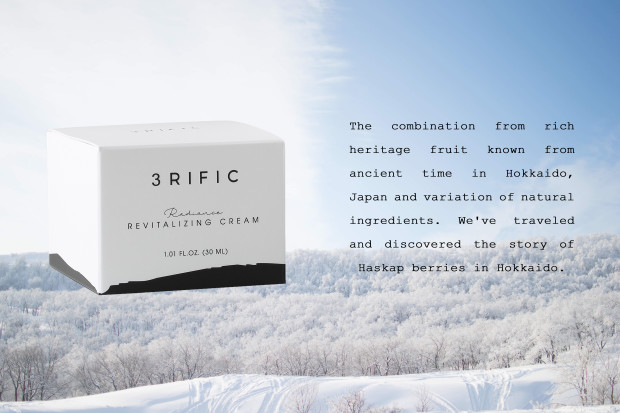 "From natural plants and flowers to the deep blue sea and more, all potent ingredients captured and end their journey here, in the fresh and uniquely inspired 3RIFIC products. For every step of your journey, for every stage of your life, for everyday and everyone."
Go to https://www.indiegogo.com/projects/3rific-design-beauty# for more information or to make a pledge.